A Brief Introduction of Green Tech Report
Sep 07, 2018
The Green Tech Report is formally released on the 1st Advisory Board Meeting of International Green Technology Association (IGTA) on July 22, 2018 during the 7th CAS-TWAS Symposium on Green Technology (GT2018), witnessed by many experts, scholars from home and abroad. The releasing ceremony is hosted by CAS staff.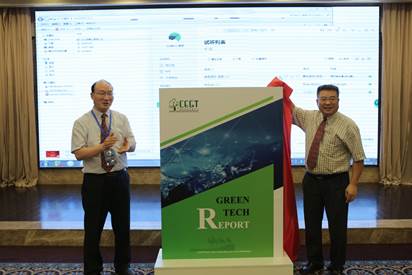 This report is edited by Prof. Suojiang Zhang, Director-General of Institute of Process Engineering, Chinese Academy of Sciences (IPE,CAS) and other IPE experts and scholars. It recognizes that mankind is confronted with many global challenges like environmental pollution and energy shortage. These challenges curb the progress and well-being of the mankind. So this report is committed to tackling these challenges through promoting green technology to achieve global sustainable development and reach harmonious relations among economic development, society and environment.
The report focuses on the current situation and development trends of green technology researches. It gives the readers a detailed introduction to many aspects like the efficient utilization of traditional energy resources, exploration of new energy, utilization of renewable resources, recycling use of water and so forth. There are six chapters in this report, focusing on different topics, including water, air pollution, fossil energy and new energy. In each chapter, it summarizes the current situation in this field and technology application, related policies and development trends as well. Among them, several important examples of technologies are listed in detail.